GPS Gives Back! Thank you Terri Stone!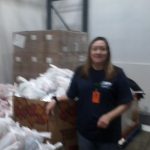 Thank you Terri Stone at GPS Corporate!
GPS encourages our staff to Give Back to their community by volunteering. Each GPS staff team member is encouraged to volunteer one day (paid working day by GPS) per quarter throughout the year.
Thank you Terri Stone for giving back at the Harvest Hope Food Bank today! #gpsgivesback #harvesthope
Remember you can volunteer, Give Back and make a difference in your community as well!